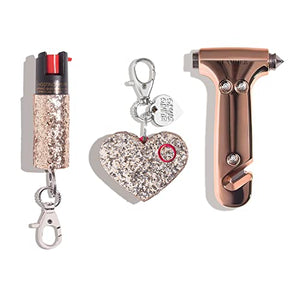 Brand: BLINGSTING
Color: Rose Gold
Features:
THREE POWERFUL SURVIVAL TOOLS - Set Includes Escape Hammer, Pepper Spray, & Personal Alarm
CAR RESCUE TOOL - Break glass and cut seat belt with recessed steel blade
PORTABLE PROTECTION - 115 decibel alarm with LED safety key light is TSA compliant
ALWAYS BE READY - Spray & alarm clip to purse, backpack or keys. Escape hammer comes with essential adjustable car visor strap
MADE IN THE USA - Formulated and bottled in the United States
Details: Personal safety doesn't have to be boring or masculine! Introducing the BLINGSTING Glammer, Pepper Spray, and Ahh!-larm Safety Kit. Demand attention with the super loud 115 decibel siren. Legal to carry anywhere in the United States, it is the ideal self defense tool for people of any age, elders. Respond to danger immediately with the strongest self defense spray formulation allowed in all 50 states. Designed to be discreetly super-cute, with the maximum pepper spray formula. It will cause major respiratory effects like choking, burning eyes and temporary blindness. Be prepared to break windows and cut seat belts in the event of a car wreck with the emergency escape hammer. Be aware, be vigilant, and of course – be cute and prepared at all times!
EAN: 0850042092446
Package Dimensions: 6.7 x 6.0 x 5.0 inches